Software Engineering 3
San Jose, California
Overview
Intellect, curiosity, commitment, pride, respect, teamwork and good communication skills are what we're looking for. We expect someone with solid computer science/engineering fundamentals (Including strong knowledge of data structures, algorithm writing skills and Object oriented programming concepts), a strong drive for results, thrives on continuous innovation, dreams big, self-starts, learns fast, gets things done while having fun. And you should be customer focused – because great business results is what our teams are about, and eBay sellers depend on us.
It's all about the code. High quality, efficient, elegant code that fuels the commerce revolution. Help create the infrastructure and applications that unlock more economic opportunity for millions of people every day. This is your chance to take on some of the most complex technical problems in service of making a tangible impact around the globe.
Success Profile
What makes a successful Software Developer at eBay? Check out the traits we're looking for and see if you have the right mix.
Problem-solver 10
Quick-thinking 9
Creative 8
Productive 7
Courageous 6
Team Player 5
Traits are on a scale of
0
to
10
Quote
If you love new challenges and want to take your career by the horns, eBay is a great place to grow and develop.
Trending
Three Phones

eBay Speeds Up Mobile Experiences by Expanding AMP Technology for Product Pages

Mobile web customers will now experience even faster search with the addition of Brands and Interests.

Three Engineers

Engineering with a purpose

Our engineering teams are at the forefront of this evolving, dynamic marketplace, with the ultimate goal of helping connect buyers with sellers all across the globe.

Hadoop Graphic

Enhancing the User Experience of the Hadoop Ecosystem

At eBay, we have multiple large, multi-tenant clusters. Each of these clusters stores hundreds of petabytes of data.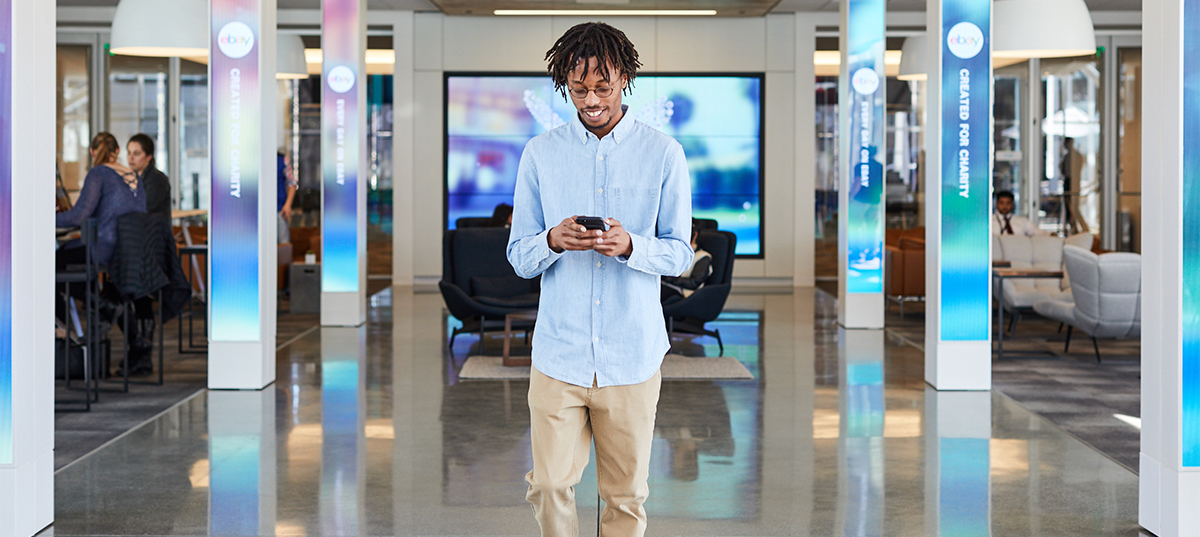 Rewards
Healthcare

Medical, Dental,Vision, Healthcare FSA, Dependent Care FSA, Health and Wellness Programs

401(k) / Retirement Plans

Employer Matching, Employee Stock Purchase Program

Continuing Education

Tuition Reimbursement, Professional Development

Paid Time Off

16+ Days of Paid Time Off, Paid Maternity leave, Paid Paternity Leave, 11 Paid Holidays

Amenities

Onsite Gym/Fitness Center

Sabbatical

Sabbatical, 4 paid weeks every 5 years
Looking for a company that inspires passion, courage and imagination, where you can be part of the team shaping the future of global commerce? Want to shape how millions of people buy, sell, connect, and share around the world? If you're interested in joining a purpose driven community that is dedicated to creating an ambitious and inclusive workplace, join eBay – a company you can be proud to be a part of.
At eBay, Inc., we process nearly a billion transactions a day, and we run our site 24x7 with 99.99% reliability. We are providing governance, Standards implementations and foundation services for the hundreds of Web Services enabling eBay.com shopping, checkout, trading, mobile, as well as internal and operational tools.
You will be building features for high-performance mobile platform services, eBay Technical Standards and security services powering the entire eBay.com, and governance tools to manage all eBay Web Services. You will be developing in Java, Node.js and Scala, and using technologies such as JAX-RS/Jersey, Spring.io, OpenStack and Angular.
In addition, you will be encouraged to ensure eBay is keeping pace with new technology, including engaging with external communities.
If you are a strong developer with high technical skills, passion, and results focus, this is your great chance to play a key role in a core area of software development for some of the world's largest web sites.
Skils/Experience we are looking for:
4+ years experience working with large-scale server side development in a production environment, preferably Java Enterprise web server development.
2 + years experience working with other groups such as Build/Release, Operations, Load and Performance, Security, QE and Training.
Great Technologist:
General/Computer Science
Excellent understanding of computer science fundamentals, data structures and algorithms.
Strong analytical and problem solving skills.
Experience in all phases of development, including design and architecture.
Solid exposure to Agile methodologies and Scrum.
Web Services Development:
Deep understanding of API design and REST principles, experience in building Web Services at scale, preferably for Mobile devices, ideally RESTful.
Solid knowledge of J2EE Servlets and JAX-RS.
Familiarity with Spring Security is a plus.
Java and JVM:
Expert in Java language features, Object Oriented and Modular programming (Design Patterns are a plus).
Good command of multi-threaded concurrency.
Experience with performance tuning of large-scale systems, and JVM profiling/tuning, and garbage collection is prefered.
DI/IoC:
Good command of Spring, Dependency Injection and Inversion of Control programming paradigm.
Web Application Development:
Experience developing web applications, preferably Single Page. Angular JS and IO, React.js, and jQuery are a plus.
Good knowledge of Node.js development is welcome.
Great team player: 
Proactive, self-directed, detailed and organized
Passionate and self-motivated
Strong verbal and written communication skills
Able to work in a fast paced, iterative development environment
This website uses cookies to enhance your experience. By continuing to browse the site, you agree to our use of cookies
View our privacy policy
View our accessibility info
R0020777-1
Apply
Read full job description
About our location
San Jose Office
map
Recently Viewed Jobs
You have not viewed any jobs.